Dr. Thomas O. Clanton, MD
Foot & Ankle Orthopaedic and Sports Medicine Expert
Research & Consulting
Dr. Thomas O. Clanton is an orthopaedic foot and ankle specialist who served as the Director of Foot and Ankle Sports Medicine at The Steadman Clinic in Vail, Colorado until his retirement from clinical practice in December of 2020.  He is internationally recognized for his work as an orthopedic surgeon, specializing in sports medicine and orthopaedic problems of  the leg, ankle, and foot. Dr. Clanton joined  was in practice at The Steadman Clinic from August of 2009 through December 2020 after successfully building both a private practice and an academic practice in Houston, Texas, for more than two decades.
Dr. Clanton continues to participate in research at the Steadman Philippon Research Institute. He also shares his vast knowledge and expertise in orthopaedic injuries to the lower extremities and the foot and ankle by offering remote second opinions through BICMD.com. Best In Class MD allows clients worldwide to obtain expert opinions and consultations concerning their orthopedic conditions. Dr. Clanton will offer patients and physicians the best advice for treatment and follow-up care.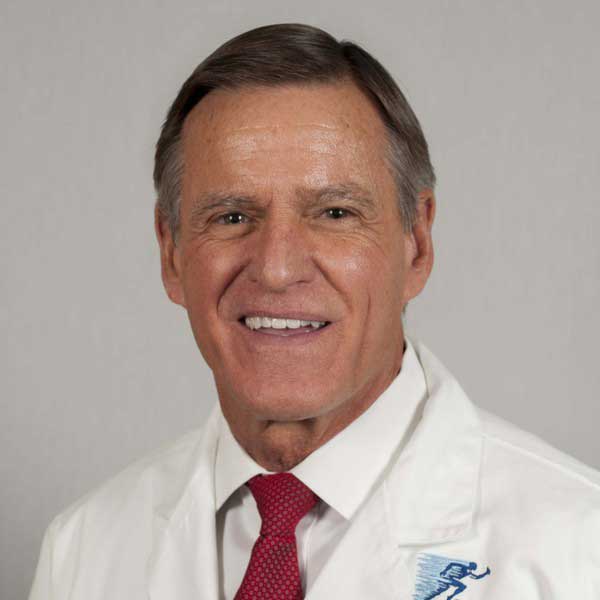 Dr. Clanton's Specialization
As one of only 10 surgeons in the United States, and the only surgeon in the entire state of Colorado, who participated in the FDA Investigational Study of the Scandinavian Total Ankle Replacement, known as the STAR ankle, Dr. Clanton helped pioneer ankle replacement surgery and began introducing the procedure to patients in 1998.  He is one of the most experienced surgeons in the area of ankle replacement and has lectured extensively on this subject and taught both basic and advanced courses to other orthopedic surgeons who are learning the technique.
In addition to ankle replacement surgery, Dr. Clanton is an expert in arthroscopic foot and ankle surgery, and used this approach for many sports-related, traumatic, and degenerative conditions. Some of these conditions included syndesmosis injuries or high ankle sprains, Lisfranc injuries, Jones fractures, claw toes, bunions and hallux valgus, hallux rigidus, turf toe, navicular stress fractures, traumatic fractures of the foot and ankle, and osteochondral injuries of the talus, to name a few.
Education
Dr. Clanton received his M.D. degree from Baylor College of Medicine in 1976. He then entered and completed a five-year orthopaedic residency program at The University of Texas Health Science Center in San Antonio. Before Dr. Clanton started his own successful practice, he received additional foot and ankle training in Oakland, CA, under Roger A. Mann, M.D., and later trained in knee surgery in Jackson, WY, under the direction of John Feagin, M.D., Ken Lambert, M.D., and Bill Mott, M.D.  In 1984, he was certified by the American Board of Orthopaedic Surgery and has been a Fellow of the American Academy of Orthopaedic Surgeons since 1986.
Career
During his career, Dr. Clanton has held countless academic appointments and has served on a number of committees and organizations, as well as being appointed lead surgeon and/or physician for a number of entities.
He was Chairman of the Department of Orthopaedic Surgery at The University of Texas Medical School at Houston for ten years and also served as Chief of Orthopaedic Surgery and Co-Medical Director of The Sports Medicine Institute at Memorial Hermann Hospital in Houston. He has also served as President for a variety of societies, including: President of the Texas Society for Sports Medicine (1993-1994), President of the Houston Orthopaedic Society (1998-1999), and President of the American Orthopaedic Foot and Ankle Society (AOFAS, 1999-2000). Following his term as President for the AOFAS, he served as one of three foot and ankle surgeons representing the United States on the International Foot and Ankle Society Board of Directors.
Dr. Clanton's orthopaedic practice was associated with treating athletes of all levels since day one. This has included a variety of collegiate and professional sports teams and organizations, and has included Olympic and Premier League athletes.  He was a team physician for Rice University for 27 years and still acts as a consultant to them. The Houston Rockets NBA basketball team selected him as their Team Physician in 2005. He was one of the original orthopaedic consultants selected to work with the Houston Texans NFL football team and served in that role from the team's inception in 2002 until he moved to Vail in 2009. He has treated numerous professional and collegiate athletes including Yao Ming, Eddie George, Liu Xiang, Lindsey Vonn, Lance Berkman, David Freese, Anthony Rendon, and Kendrys Morales.
Dr. Clanton has served as host and keynote speaker for countless medical meetings and conferences throughout the world, and was over the Foot and Ankle Fellowship Training Program at the Steadman Philippon Research Institute while acting as Director of Foot and Ankle Research.  In addition, he served as the Medical Director of the Athletic Training Residency Program at The Steadman Clinic in Vail.
He held a faculty member position for Arthrex and Stryker corporations, and was a member of the Christian Medical and Dental Society, the American Academy of Orthopaedic Surgeons, the American Orthopaedic Society for Sports Medicine, the American Orthopaedic Association, the Arthroscopy Association of North America, and the American Orthopaedic Foot and Ankle Society. The Royal College of Physicians and Surgeons of Glasgow selected him as an Honorary Fellow in 2014.
Dr. Clanton and his wife Kay live in Edwards, Colorado, near their two married daughters in Eagle County. He enjoys spending time with his grandchildren, running, skiing, and fly fishing.